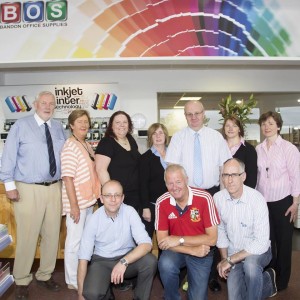 Bandon Office Supplies (B.O.S.) is synonymous with the supply of office Furniture and office products throughout Munster.
The business started in 1979 and currently operates from two locations, the Bandon Office Supplies Shop and the manufacturing facility, Bandon Print & Sign.
The B.O.S. shop is located at Unit 1, Bypass Business Park, Bandon, Co. Cork. With its own car park for customers the shop offers a very wide range of office products, school supplies, home and office furniture, art,crafts and party supplies as well as an extensive range of Back to School items.
Our manufacturing facility (Bandon Print & Sign), is located in the IDA Industrial Estate at Laragh, Bandon. We produce Printing for all your requirements as well as Signs of all sizes and shapes. Vehicle sign writing is also done here as well as the production of items such as advertising hoardings, banners, stickers and security badges.
B.O.S. offers a wide choice of products backed up by an experienced team who can offer help and advice in choosing the right product best suited to your needs.