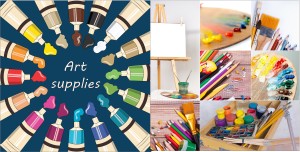 We stock a wide range of Arts & Crafts materials from suppliers renowned for their knowledge in art products. We cater for all levels of ability from childhood drawings to artist's masterpieces. We also stock a collection of educational aids and craft materials for schools, crèches, teachers and students.
• Paints – Acrylic, Gouache, Oil, Poster, Spray & Watercolour
• Brushes – Acrylic, Oil, Watercolour and Brush sets
• Paper – Acrylic, Calligraphy, Craft, Oil, Pastel, Sketch &Watercolour
• Colouring & Drawing – Chalk, Crayons, Markers, Pastels & Pencils
• Construction – Clays, Foamboard, Lollipop sticks, Etc…
• Craft – Buttons, Card, felt, feathers, foam shapes, Pom poms, Pipe cleaners, Ribbons, Stickers, and many, many more…
• Educational Aids – Flash Cards, Merit Stickers, Reward Stamps, Wall Charts
• Musical Instruments – Recorders & Tin Whistles
• Books – Art Books, Colouring Books, Reading Books, Educational Books
• Fun Stuff – Arts & Craft Sets, Face Paints, Play-Doh, Stickers, Games & Puzzles
Loads more in our shop at Unit 1, The By-Pass Business Park, Bandon
You can contact us on kathleen@bandonoffice.com with any queries.